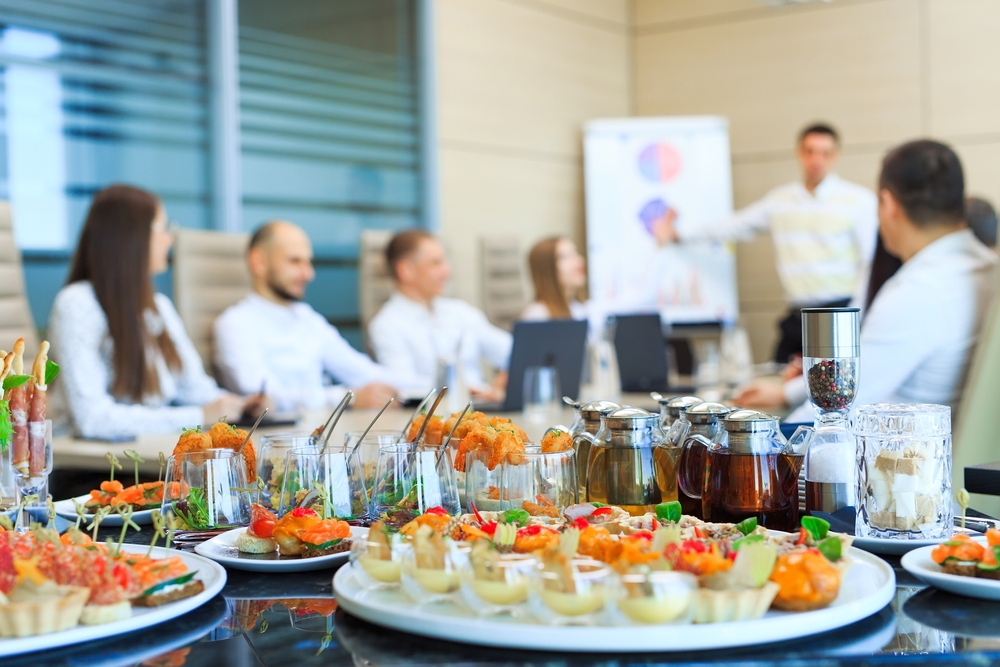 Planning a corporate catering event and not sure where to start? We've got you covered. Whether it's a small office meeting or a large team-building event, providing top-notch food and services is a must. Below are five tips for hosting a successful corporate catering event.
1. Proper Headcount
Before you meet with your caterer, try to have an estimated headcount. We recommend overestimating in order to account for last minute attendees. Continue to update your caterer on headcounts as the event approaches. If you're planning to do a buffet keep in mind that most venues will require 35 or more guests.
2. Set a Budget
Make sure you efficiently communicate with management about your budget needs. If you're planning for a steak and seafood dinner type of event, you'll want to clarify that early on. Keep in mind you'll also need to account for things like linens, silverware, and flowers. Don't start to make decisions until you have a set budget.
3. Select a Menu
Once you have the number of attendees, a budget, and a theme picked out you can start planning your menu with the catering company. The menu options can vary a lot depending if it's a breakfast, lunch, or dinner event. Breakfast traditionally includes coffee, juices, and pastries. While lunch and dinner events will usually consist of a main course, entrees, side dishes, and dessert.
4. Dietary Restrictions
One of the most important aspects of a catering event is to make sure you follow your guests dietary restrictions. Many people follow vegetarian, vegan, or gluten-free diets so you'll want to provide a couple of options. Those who have food sensitivities or allergies will want to provide this information early on.
5. Decide on Buffet or Wait Staff
Once you have your menu set you'll want to decide if the event will consist of a self-serve buffet or a full service waiting staff. A full service wait staff is beneficial if you want your attendees to focus on guest speakers while a self-serving buffet offers opportunities for attendees to mingle.
If you're looking for catering companies bonita springs fl, restaurant catering near me bonita springs fl, or corporate catering naples fl give Prestige Catering a call!