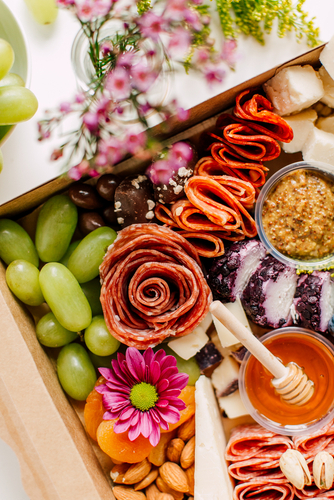 With the fall wedding season kicking off, couples are getting ready to celebrate their special day with the season's latest trends. Catering tends to be a large focus for wedding planners and couples alike. Keep reading for some of the biggest catering trends for Fall 2022, and let Prestige Catering make your wedding dreams come true. 
Nostalgic Treats
Weddings are a time of gathering your loved ones and celebrating your story, so nostalgia is a common theme in wedding trends. Now more than ever, couples are focusing on bringing the "something old" element to the forefront of their special day. Simple, home-style meals for weddings are being welcomed with open arms in 2022. Comfort foods from childhood can evoke sweet family memories and bring a warm feeling to your guests. Maybe even consider incorporating your grandma's secret recipe that you've enjoyed since you were a child. Did someone say Italian wedding soup?
Grab n' Go Stations
Help-yourself arrangements and grazing tables allow guests to grab a quick bite to eat and jump back on to the dance floor with their loved ones. Grab n' go stations are a great option for those looking for a more informal, low-key wedding celebration. Who doesn't love a good charcuterie filled with cheese, fruits, and crackers at your own disposal? We love incorporating grab n' go stations into a cocktail hour or dessert set-up!
Vegan Options
As vegan diets become a popular and more common choice, chances are some of your guests are now opting for a vegan diet. Offering vegan options doesn't mean you are limited to just tofu and veggies. Instead of beef sliders, consider a plant based protein option such as Beyond meat. Vegan dessert options can be just as delicious as well. Plus, your non-vegan guests can still enjoy traditional wedding meals.
Edible Flowers
We all know that flowers are crucial when it comes to weddings, but have you ever thought about flowers for your food? Edible flowers can be used for a range of items such as appetizers, cocktails, and desserts. Fresh edible flowers are a beautiful detail to add to your catering menu, and provide a luxurious flare to your event.

Bride-to-Be Breakfast
Breakfast is the most important meal of the day, and your wedding is no exception! There's no better way to start your big day off than by enjoying a delicious breakfast with your favorite people. A bridal breakfast party is a great way to celebrate with your bridesmaids while getting ready, and keep you all energized for the long day and night ahead. Don't forget the mimosa bar! 
If you're looking for wedding catering bonita springs fl, catering services bonita springs fl, or breakfast catering bonita springs fl give Prestige Catering  a call!