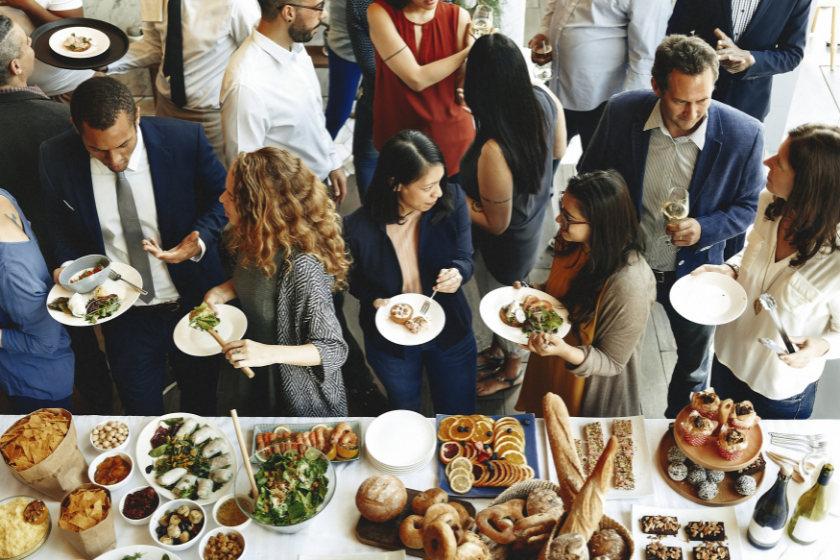 The holidays are upon us and you know what that means- the annual company holiday party. Every year corporate planning gets more complicated, why not take it easy by hiring catering companies Naples FL to check an item off your to-do list? Here is a list of different catered food ideas to make this years' party stand out and show your employees just how much you appreciate them. 
Finger Foods
Everyone loves finger foods, and it's an easy way to keep people talking and walking around. Sit-down dinners are great, but if you want to talk to as many people as possible and socialize why not walk and talk?
Traditional Turkey Dinner
There's nothing people love more than comfort food, and a Thanksgiving-style dinner is the best way to incorporate that. What better way to show your employees they're like a family than mimicking a holiday meant to bring those we care about together?
Soup Buffet
Winter brings the colder weather and a desire to warm up. If you want to provide employees a heartwarming experience a soup buffet is a great option. It's also an easy way to incorporate vegan and vegetarian options into your meal to make it more inclusive.
Dessert Party
The best way to sweeten up any party is to have an array of desserts for guests to choose from. You can include Gingerbread cookies, cakes, and even ice cream with fun holiday sprinkles. It's definitely an employee favorite, because who doesn't love dessert?
Holiday Cocktails
You can decide to go alcoholic or non-alcoholic but the best way to spread holiday cheer is to put it in a cup! Warm-up with hot chocolate or cool down with a White Russian. It's an easy way to provide a treat, with less of a mess and lower cost.

Catering is an easy way to show employee appreciation at your next holiday party. Prestige Catering will help make your party memorable by designing a custom menu for your company. We are here to provide quality service and delicious food from our family to yours! Contact us to schedule your party catering near me Naples FL.